A Decade of Innovative Technology to Accelerate Drug Development
Celerion continues its Celebration of Translating Science into Medicine for over a decade by highlighting how Celerion ScienceSM has contributed to the development of new therapeutics using our core competencies. While Celerion's inventive spirit began over 50 years ago, our most important contribution to human health is happening right now, against COVID-19.
2020 has been a breakthrough year working with our biopharma clients to rapidly accelerate both vaccine development and therapeutic treatments against COVID-19.  The safety of our patients and employees is an integral aspect of bringing all of us Closer to a Cure and Celerion is proud to have created one of the most comprehensive bioanalytical offerings in the industry for COVID-19 testing, with reliable and rapid results for SARS-CoV-2 PCR testing  and antibodies against the virus.
Celerion remains at the forefront of innovative and novel technology to accelerate drug development, deliver high quality data and ensure participant safety. Over the past decade, Celerion has introduced several innovative, High-Tech systems.
Our Top 10 Innovative Technologies Implemented over the Past Decade: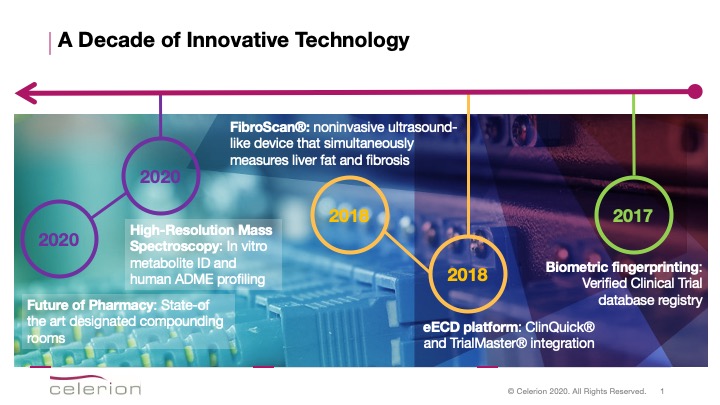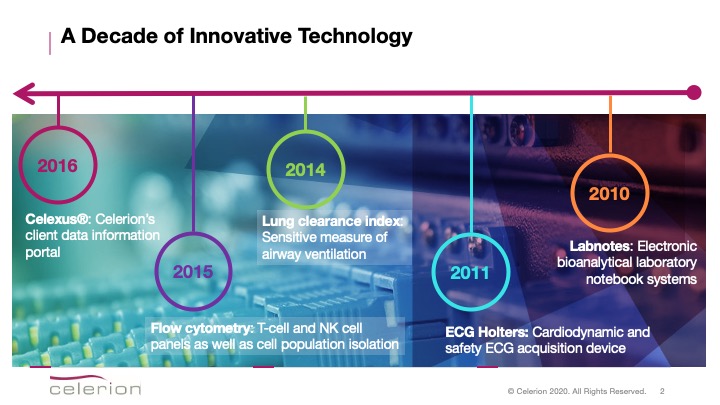 2020 → Celerion delivers the Future of Pharmacy with state-of-the-art pharmacy suites for extemporaneous API compounding. The suites provide dedicated positive and negative pressure rooms for hazardous and non-hazardous material. In addition, the Lincoln pharmacy houses a devoted ADME suite and all Celerion pharmacies are USP <795>, <797>, and <800> compliant.
2020 → The latest enhancement to drug development is high-resolution mass spectrometry (HRMS). HRMS determines the exact mass of molecular ions and is applied in drug development to support in vitro metabolite identification as well as human ADME profiling studies. Our HRMS system is available at our Zurich bioanalytical laboratory.
2018 → FibroScan® is a noninvasive ultrasound-like device that simultaneously measures liver fat and fibrosis. FibroScan® is an integral part of inclusion and exclusion criteria for early phase nonalcoholic steatohepatitis (NASH) studies. Available at our Lincoln, NE and Phoenix, AZ clinics, we have a large database of FibroScan pre-screened participants.
2018 → Celerion provides a fully automated early clinical trial data management platform through the integration of Celerion's proprietary electronic data acquisition system, ClinQuick®, with OmniComm's TrialMaster® electronic data capture solution.  This integration automates Celerion's data acquisition system and provides consistent data management and reporting capabilities in one centralized database. It facilitates consistency of data collection across clinical sites, ensuring accurate and high-quality information.
2017 → Celerion uses biometric fingerprint technology to complement Verified Clinical Trials participant database registry. The registry enhances the quality and safety of clinical trials. Biometric fingerprint augments the accuracy and speed of verification as well as adding another layer of protection to ensure dual enrollment in a clinical trial does not occur.
2016 → Celexus® is Celerion's client data information portal. Clients can access real-time clinical data with operational key performance indicators, a centralized repository for study documentation. The system also features a dynamic interactive experience for analyzing and interpreting clinical data.
2015 → Flow cytometry is a unique bioanalytical service offering. This technique is used to detect and quantify characteristics of a cell population or particles. Flow cytometry can measure T cell and NK cell panels as well as specific cell population isolations (CD cell molecules). Our system even determines simultaneous measurement of multiple cytokine, chemokine, immunoglobulin, or cell signaling targets from a single sample. Immune cell monitoring can be further investigated with ELISpot (enzyme-linked immunosorbent spot). ELISpot is useful to measure B-cell antigen-specific antibodies and T-cell secretion of IFN-γ. This bioanalytical service offering was introduced in 2017.
2014 → Lung clearance index is a sensitive measure of airway ventilation, able to evaluate early signals of efficacy for cystic fibrosis drug development. The system is available at Celerion's Respiratory Center of Excellence in Belfast, UK, which also houses a dedicated on-site bronchoscopy suite allows bronchoalveolar lavage (BAL), whole-body plethysmography system as well as spirometry apparatuses.
2011 → Celerion's highly automated ECG core lab uses an ECG acquisition Holter device to collect continuous digital 12-leads ECG recordings for cardiodynamic and safety ECGs.  LCD screens optimize data quality by allowing visual inspection of all 12 leads before each collection time point. Digital recordings enable prompt onsite or remote review of safety ECGs to address potential adverse events or subject safety concerns.  Using Bluetooth technology, this system was updated in 2015 for direct data capture.
2010 → Workload can be streamlined at the Speed of Science with Labnotes, an electronic bioanalytical laboratory notebook system that comprehensively captures study procedures, observations and results. The system ensures only reagents, solutions, equipment, and prepared standards within quality requirements are used (e.g. expiry, calibration, and preventative maintenance). Data can be reviewed immediately, reducing the chance of errors. Labnotes enables us to meet regulatory requirements for GxP, 21 CFR Part 11, and the FDA's Electronic Records and Signature Rule.